Our 40 Year History in Minnesota

As an athlete, trainer and amateur sports organizer and advocate, J. D. Pride (J.D.) has served the Minnesota community in recreational sports and fitness activities from 1978 until the present.
This history of service in the metropolitan community and J.D.'s sporting entrepreneurship began when he attended the University of Minnesota on a football scholarship from 1973 – 76. Pride played and lettered in football and basketball at the U of M. He was drafted by the Miami Dolphins in the 1976 NFL draft.
After a short NFL career, J.D. returned to Minneapolis and started a fitness venture called Pride Sports and Fitness, Inc. "Pridercise". He launched and conducted his unique fitness exercise activities at local health clubs. Later that year, Pride began his own fitness company — Pride Sports and Fitness in September 1978 — refining the program and conducting exercise routines around the local chain of lakes.
Thereafter, he began conducting exercise classes in the Minneapolis National Guard Armory on the same floor on which the former Minneapolis Lakers played. The program took off with leaps and bounds as Pride Sports and Fitness signed up corporate clientele, including the Star Tribune, Continental Grain and Hennepin County employees. By the 1980, Pride Sports and Fitness had more than 1,500 employees working out every weekday at morning, noon and after work sessions – five days a week.
As the Metrodome construction continued, J.D. dreamed about the possibility of conducting exercise and recreational activities in the brand new facility. Once the Metrodome opened its doors, J.D. approached then executive Director Jerry Bell and Operations Director Dennis Alfton. After pressing these two forward thinking founding directors for months — and with the help of then Hennepin County Chairman John Derus, Mr. Bell gave Pride an opportunity to start conducting recreational programs on the stadium field.
Pride first began conducting exercise classes morning, lunchtime and after work for many of the men and women participants that migrated from the Minneapolis Armory. Later that winter, Pride began conducting co-ed volleyball leagues on the Vikings and Gopher sidelines. Once again, the rec activity exploded. Within two years, Pride co-ed volleyball leagues grew to 185 corporately sponsored teams playing in leagues each week.
Pride also conducted the first Major League Women's professional volleyball exhibition in the Metrodome, "The Monarch". This event drew over 500 fans with the team led by local former All American U of M Golden Gopher player Jill Halstead.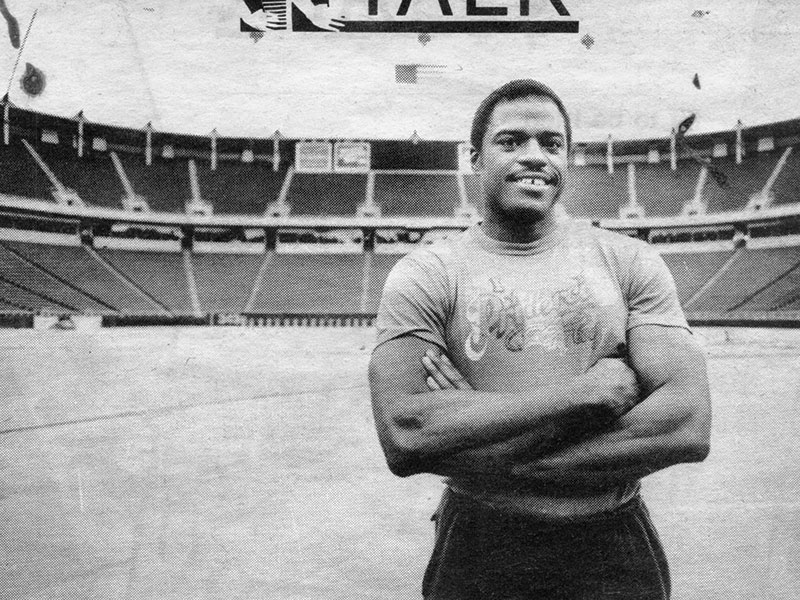 In the years moving forward, Pride Sports and Fitness began to include inner-city youth as participants in the Dome rec programming. Pride was the first to conduct Minneapolis Park board youth football championships in the facility and the first to conduct organized
— with official referees and media coverage — inner-city youth basketball exhibition games on the NCAA Regional and Final 4 weekends.
Shortly thereafter, in the year 1989 with the help of another Metrodome employee Mr. Dick Davis, Pride Sports and Fitness began to conduct yearly youth football tournaments and exhibition games that featured suburban associations playing against inner-city teams and associations from Minneapolis and St. Paul.
Pride presently continues to offer these rec services to metro youth football associations, and currently has the most diverse list of youth football, soccer and lacrosse associations as any other organization in the 7 county metro area.
In that same year, Pride began to promote, sponsor and offer adult men and co-ed touch/flag football leagues and tournaments. These leagues grew to over 96 corporate and bar sponsored teams playing each week. All of these programs
J.D., along with his son J.D. Pride Jr. and staff, look forward to serving the communities throughout the Upper Midwest.