SEPTEMBER 2022
Sunday, September 4

Jamboree Schedule

10:00am
Field 1
Phelps vs Cooper (3rd grade)
Field 2
Monticello vs Phelps (4th grade)
11:00am
Field 1
Cooper vs Panthers (4th grade)
Field 2
612 Young Kings vs Phelps (4th grade)
12:00pm
Field 1
Phelps vs Cooper (5th grade)
Field 2
Metro Bullies vs Frogtown (5th grade)
1:00pm
Field 1
612 Young Kings vs Frogtown (5th grade)
Field 2
612 Young Kings Flag Teams
Phelps Flag Teams
2:00pm
Field 1
Panthers vs Frogtown (7th grade)
Field 2
Cooper vs Phelps (7th grade)
3:00pm
Field 1
Phelps vs 612 Young Kings vs Frogtown (8th grade)
Field 2
Panthers vs Westside Boosters (6th grade)
4:00pm
Central Division Championship
K.C. GTBD vs Phelps (6th grade)
Friday, September 16
5:00pm – Forest Lake
6:15pm – Forest Lake
7:30pm – Forest Lake
8:15pm – East Ridge Youth Football
8:45pm – Elk River vs Eastridge (8th grade)
Tuesday, September 27
5:00pm Forest Lake Gold vs Chasago Lakes Green (4th grade)
6:15pm Forest Lake Maroon vs North Branch Red (4th grade)
7:30pm Forest Lake Gold vs Chisago Lakes (5th grade)
8:45pm Forest Lake Maroon vs North Branch (5th grade)
OCTOBER 2022
Saturday, October 1

9:00am – Champlin Park
10:15am – Champlin Park
11:30am – Champlin Park
12:45pm – Champlin Park
2:00pm – Champlin Park
3:15pm – Champlin Park
4:30pm Chanhassen vs Prior Lake (6th grade)
5:45pm: Eastview vs Rosemount (8th grade)
7:00pm – Stillwater vs Eastridge (7th grade)
8:15pm North Branch vs Chisago Lakes (6th Grade)
Sunday, October 2

9:00am – Byron Youth Football
10:15am – Byron Youth Football
11:30am – Byron Youth Football
12:45pm – Byron Youth Football
2:00pm – Byron Youth Football
3:15pm – Byron Youth Football
4:30pm – Byron Youth Football
5:45pm – Mankato vs Bloomington (6th grade)
7:00pm – Mankato vs Bloomington (6th grade)
Monday, October 3

5:00pm – Stillwater Youth Football
6:15pm – Stillwater Youth Football
7:30pm – Stillwater Youth Football
8:45pm – Stillwater Yothth Football
Friday, October 14

5:00pm – Forest Lake Gold vs North Branch (7th grade)
615pm – Forest Lake White vs Chisago Lakes 2 (7th grade)
7:30pm – Forest Lake Maroon vs Chisago Lakes 1 (7th grade)
8:45pm – North Branch vs Pine City (6th grade)
Saturday, October 15

9:00am – Richfield Youth Football
10:15am – Richfield Youth Football
11:30am – Richfield Youth Football
12:45pm – St Louis Park/Hopkins Flag
2:00pm – St Louis Park/Hopkins Flag
3:15pm – St Louis Park/Hopkins Flag
4:30pm – Lakeville South vs Shakopee (8th grade)
5:45pm – Lakeville South vs Shakopee (8th grade)
7:00pm – Pearl Park vs Westside Boosters (8th grade)
8:15pm – Westside Boosters vs Governor's (6th grade)

Saturday, October 22

9:00am – Braham vs Ogilvie (4th grade)
10:15am – Ogilvie vs Braham (5th grade)
11:30am – Ogilvie vs Braham (6th grade)
12:45pm – Egan vs Eastview (6th grade)
2:00pm – Minnesota Jays vs North Commons Park (10U)
3:15pm – Minnesota Jays vs North Commons Park (11U)
4:30pm – St Louis Park vs Edina (Middle Schools)
5:45pm – Brooklyn Park vs Phelps Park (7th grade)
7:00pm – Frogtown vs Phelps Park (8th grade)

Sunday, October 23

9:00am – 4th Grade WB White (Cardinal) vs. Mahtomedi
East Side Field
9:00am – 4th Grade WB Orange (Macalus) vs. Rogers
West Side Field
10:15am – 5th Grade WB Black (Doverspike) vs. Centennial (Wick)
East Side Field
10:15am – 5th Grade WB White (Oswald) vs. Mahtomedi
West Side Field
11:30am – 5th Grade WB Orange (Mauch) vs. Moundsview
East Side Field
11:30am – 6th Grade WB Orange (Redlinger) vs. Rogers (Shepard)
West Side Field
12:45pm – 6th Grade WB Black (Ryan) vs. Rogers (Huemoeller)
East Side Field
12:45pm – 6th Grade WB White (Pederson) vs. Woodbury
West Side Field
2:00pm – 7th Grade WB #3 (Klamerus) vs. Blaine Bengals
3:15pm – 7th Grade WB #2 (Hopkins) vs. Centennial
4:30pm – 7th Grade WB #1 (Geislet) vs. Blaine Wolves
5:45pm – 8th Grade WB #3 (Meyer) vs. Cottage Grove
7:00pm – 8th Grade WB #1 (Blalock) vs. Moundsview
8:15pm – 8th Grade WB #2 (Magnuson) vs. Rogers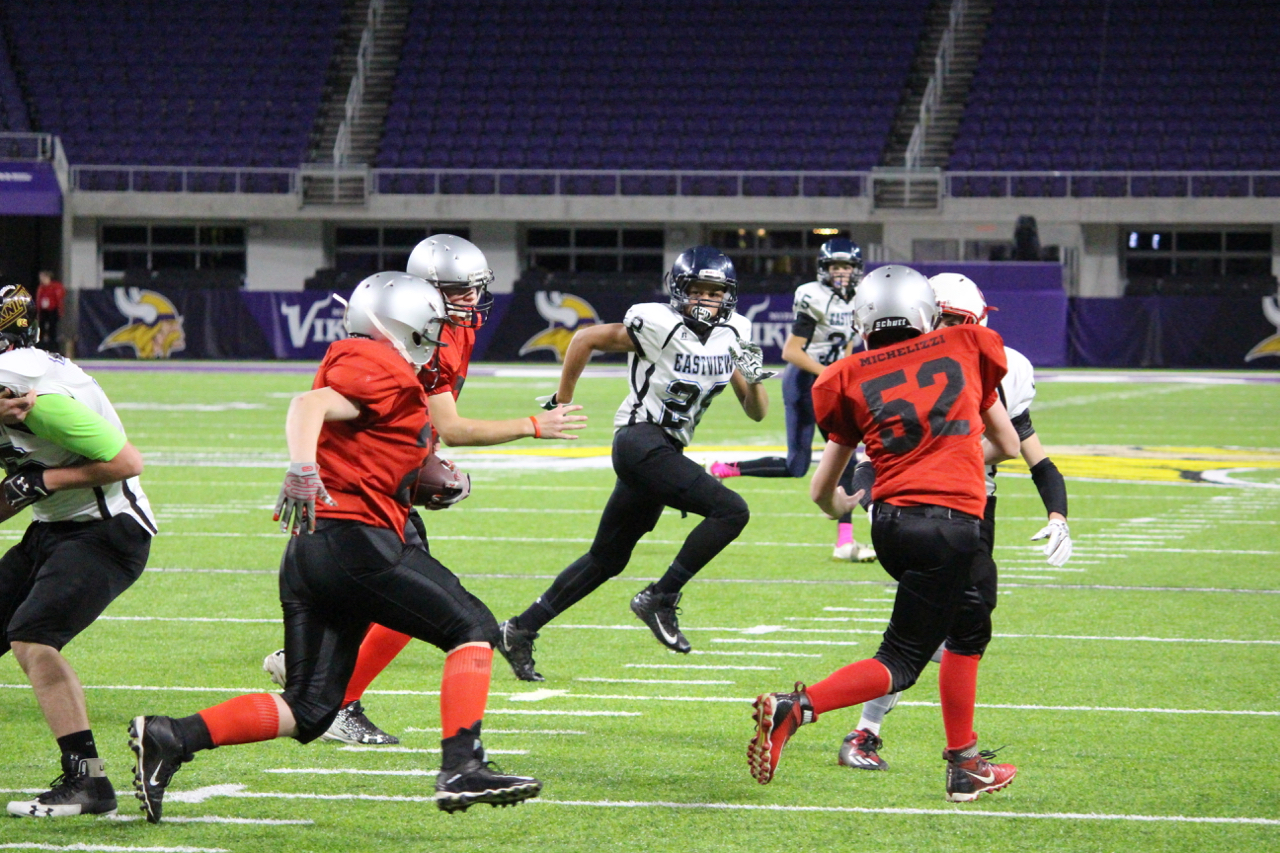 pridercise_turkeybowl_2017_IMG_6921
Adults (17 yrs and older)
$20
Kids (3yrs-16yrs)
$15
Payment via Cash only accepted at the Box Office.
Ticketed Guests will be entering through the Polaris Gate.
Fans who attend 1st scheduled game will enter stadium after all players and coaches have entered. Parents will not be allowed to come into the stadium with teams. Please make sure your kids have found their respective coach prior to entering stadium.
Parking is located on Northwest side of the stadium in the Fleet Farm Parking Ramp. The ramp is located on the corner of South, 4th street and Chicago Ave. After parking head across 4th street to the ticket office which is also located on the northwest side of the stadium.
Players and coaches will be able to enter the stadium (through the Echolab Gate) to warm-up 30 minutes before 1st scheduled game. All teams playing after first scheduled game of the day will be able to come down on playing field to warmup at the end of 3rd quarter of game prior to their scheduled game.
Fans may sit anywhere they would like on the first level below the Polaris Club
Concessions are available.
Field Passes – Maximum 5 Per Team
Coaches please pick up field passes when you check in at front door.
(No one other than players/cheerleaders will be allowed on sidelines without a field pass.)
Players Must Remove Cleats When Entering Stadium!
All players must take off their playing cleats when entering the stadium.
Cleats can only be worn on field of play. Teams will be escorted downstairs to playing field.
Our 2022 t-shirts and hoodies will be available for purchase in the lobby.
Please contact JD Pride if you require additional information.