a AUGUST 2023
Sunday, August 27

Jamboree Schedule

Scrimmage Times
10am – 5pm
10:00 am
Field 1
Westside 1-3rd Grade Team 1
vs Westside 1-3rd Team 4
Field 2
Westside 1-3rd Grade Team 2
vs Westside 1-3rd Grade Team 3
11:00 am
Field 1
Phelps 3rd Grade vs
Minnesota Panthers 3rd Grade
Field 2
Phelps 4th Grade vs
Minnesota Panthers 4th grade
12:00 pm
Field 1
Monticello 4th Grade
vs Frogtown 4th Grade
Field 2
Phelps 5th Grade
vs Monticello 5th Grade
1:00 pm
Field 1
Minnesota Panthers 5th Grade
vs Twin Cities Bengals 5th Grade
Field 2
Westside 6th Grade Team #1
vs Houston MN 6th Grade
vs Frogtown 6th Grade
2:00 pm
Field 1
Westside 6th Grade Team 2
vs Phelps 6th Grade
Field 2
Westside 6th Grade Team 3
vs Westside 6th Grade Team 4
3:00 pm
Field 1
Minnesota Panthers 7th Grade
vs Twin Cities Bengals 7th Grade
Field 2
Westside Boosters 7th Grade
vs Monticello 7th Grade
4:00 pm
Field 1
Minnesota Panthers 8th Grade
vs Frogtown 8th Grade
Field 2
Westside 8th Grade
vs Phelps 8th Grade
SEPTEMBER 2023
Sunday, September 17
9:00 am
Flag Teams:
Dover Eyota, Pine Island,
Rochester, Byron
10:15 am
Flag Teams:
Dover Eyota, Pine Island,
Rochester, Byron
11:30 am
Byron 8th Grade vs
Caledonia 8th Grade
12:45 pm
Byron 7th Grade vs
Caledonia 7th Grade
2:00 pm
Byron 6th Grade vs
Tri City United 6th Grade
3:15 pm
Byron 5th Grade vs
Tri City United 5th Grade
4:30 pm
Byron 4th Grade vs
Tri City United 4th Grade
5:45 pm
Mankato East 6th Grade
vs St Peter 6th Grade
7:00 pm
Mankato West (Haskins) 6th Grade
vs Mankato West (Sandmann) 6th Grade
8:15 pm
Mankato West (Staley) 6th Grade
vs Westside Boosters, St Paul 6th Grade
Monday, September 18
5:00 pm
North Branch 4th Grade
vs Pine City 4th Grade
6:15 pm
Eastview White 6th Grade
vs Eastview Blue 6th Grade
7:30 pm
Eastview Blue 7th Grade
vs Eastview White 7th Grade
8:45 pm
Eastview Lightning 8th Grade
vs Westside Boosters 8th Grade
Wednesday, September 20
5:00 pm
Forest Lake 4th Grade Gold
vs Centennial 4th Grade
6:15 pm
Forest Lake 4th Grade White
vs Mahtomedi 4th Grade
7:30 pm
 Westside Boosters 8th Grade
vs Eagan 8th Grade
8:45 pm
Eagan 8th Grade vs
Eastridge 8th Grade
OCTOBER 2023
Tuesday, October 3
5:00 pm
Chisago Lakes 4th grade
vs Braham 4th Grade
6:15 pm
Phelps Park vs
Braham 5th Grade
7:30 pm
Phelps Park vs
Braham 6th Grade
8:45 pm
Moundsview 8th Grade vs
Stillwater Red 8th Grade
Friday, October 6
5:00pm
Chaska 7th Grade Team 2
vs Chaska 7th Grade Team 3
6:15pm
Chanhassen 7th Grade Gold
vs Chanhassen 7th Grade Blue
7:30pm
Folwell Park vs Minnesota Jays
8:45pm
Phelps Park vs Minnesota Jays
Thursday, October 12
5:45pm
Richfield Youth Football
6:15pm
Richfield Youth Football
7:30pm
Richfield Youth Football
8:45pm
Friday, October 13
5:00pm
Forest Lake 4th Grade Black
vs Mahtomedi 4th Grade
6:15pm
Forest Lake 4th Grade Maroon
vs Stillwater 4th Grade
7:30pm
Forest Lake 8th Grade Gold
vs Chisago 8th Grade
8:45pm
Forest Lake 8th Grade Maroon
vs Chisago 8th Grade
Sunday, October 15
9:00am Field 1
Oakdale-Ramirez vs
WBL-Sloan (4th Graders)
9:00am Field 2
Centennial vs
WBL-Hedinger (4th Graders)
10:15am – 11:15am
Mahtomedi-Hoffman vs
WSB-Cardinal (5th Grade)
11:30am – 12:30pm
Stillwater – Scheidecker vs
WBL – Macalus (5th Grade)
12:45pm – 1:45pm
Mahtomedi – Griffith vs
WBL-Doverspike (6th Grade)
2:00pm – 3:00pm
Stillwater Lamey vs
WBL-Oswald (6th Grade)
3:15pm – 4:15pm
Stillwater-Bowen vs
WBL-Mauch (6th Grade)
4:30pm – 5:30pm
Farmington-Threet
vs WBL – McMorkle
5:45pm – 6:45pm
Stillwater-Tice vs
WBL-McCorkle
7:00pm – 8:00pm
Lakeville South vs
WBL-Buffington (8th Grade)
8:15pm – 9:15pm
Lakeville South vs
WBL-Klamerus
Wednesday, October 18
5:00pm
Cambridge Isanti Blue vs
Cambridge Isanti Gray
(6th Grade)
6:15pm
Chisago Lakes White vs
Cambridge Isanti
(4th Grade)
Tuesday, October 24
5:00pm
North Branch 7th Grade
vs Chisago Lakes 7th Grade
6:15pm
North Branch 6th Grade
vs Pine City 6th Grade
7:30pm
Rush City 5th vs
Pine City 5th Grade
8:45pm
Mendota Heights vs
Capital City Horsemen
(5th Grade)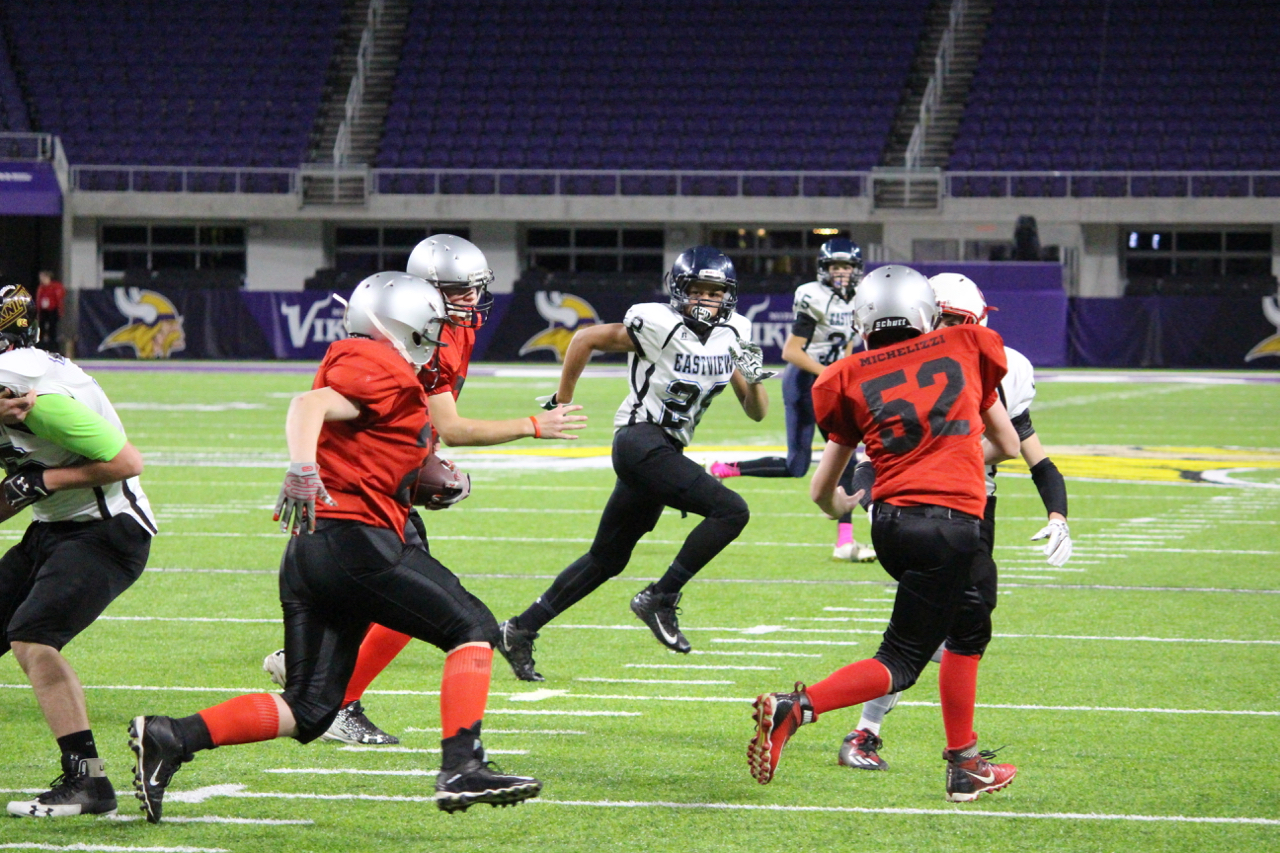 pridercise_turkeybowl_2017_IMG_6921
(Adults $20
(17 years and older)
Kids $15
(3-16 years)
No charge for children 2 years and younger.

Important Note to Players, Coaches, Parents and Fans!
Please note that starting this year the stadium management has made our event cashless. Parents and fans, there will be no ticket office open to purchase tickets to our games. You must purchase your tickets online via the following Ticketmaster link.
Concession stands are also cashless.
Merchandise table (T-shirts/Hoodies) will accept cash.
Parking is located on Northwest side of the stadium in the Fleet Farm Parking Ramp. The ramp is located on the corner of South, 4th street and Chicago Ave. After parking head across the street to Ecolab Gate to enter on the northwest side of stadium.
All Players, Coaches and Fans will enter the Stadium through the Ecolab Gate located on the northwest side of Stadium, off of 4th Street.
Fans may sit anywhere they would like on the first level below the Polaris Club
Concessions are available.
Field Passes – Maximum 5 Per Team
Coaches please pick up field passes when you check in at front door.
(No one other than players/cheerleaders will be allowed on sidelines without a field pass.)
Players Must Remove Cleats When Entering Stadium!
All players must take off their playing cleats when entering the stadium.
Cleats can only be worn on field of play. Teams will be escorted downstairs to playing field.
Please contact JD Pride if you require additional information.